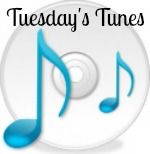 Good morning!
I am pretty sure I've told you all that weather tends to greatly affect my mood.
It's not always the usual "affected by weather" moods either.
Nope, sometimes when it's gloomy and cold outside I can become the most indecisive person you'll ever meet.
I'm not sure if it's because I'm already not in the greatest mood or what, but I
have hard time making decisions.
Shit, I honestly have problems being decisive anyways, the gray clouds do not help, at all.
So today my dears you get two songs because:
1) I can't make a decision.
2) They are bad ass songs that I'd love to share with you!
I'm totally diggin' the new Shins song and "Don't You Worry Child" makes ya feel good about life...
and let's be real it makes ya wanna shake it a bit.
3) Music can always make you feel a little bit better, so there is never truly enough of it (in my opinion).
Pick one, listen to both, whatever you want but I hope they'll pick up your a day bit like they have mine :)
Gunner wanted to make an appearance for all the new followers. He's an attention whore and simply cannot get enough of the compliments he gets on this adorable mu
g.
Have I mentioned I pretend my dog is really like a little human and has legitimate feelings about things like attention, food, and everything in between?
Well I do, and he does...he's very opinionated :)
Happy Tuesday!