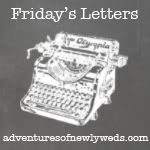 Dear Gunner,
You are so friggin' cute!!!
I love ya ♥
9 degrees...
Is this real life?
Now I understand it's January, but can we warm it up just a notch?

Dear Kev,
Thank you so much for taking me to Trans-Siberian orchestra again.
Even if the story was jacked up as hell the music was amazing and I loved getting to spend that time with you :)

Dear Winter TV,

Dear Sarge,
You might be hyper as all get out, but you are also realllllly cute!
Yes, I did two letters to two different dogs...sue me.

Dear Ddubs,
Here's to another year of attached at the hip friendship & fun.
Love ya bestest.

Dear Me,
You need to really stick to your resolutions.
Some of them you are doing well on, others...not so much.
It will be difficult, but it will be worth it!
Happy Friday!