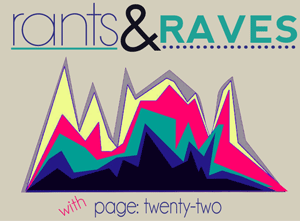 I am linking up with Shannon today for a new link up!
Rants & Raves.
As you know it's been a bit of a rough week.
Ups and downs all week long people!
It only seems appropriate to talk about 'em with a link up :)
So here we go...
Rant:
Saving money
It's for the birds...
I mean I get it, I understand why it has to happen but it's just soooo boring.
Rave:
If you checked out my instagram earlier you will know that I'm in love with my new scarf!
I've worn it twice already in less than a week.
I really can't help it, it's so springy!
Rant:
Google Maps/GPS!
WTF!
You know I am directionally challenged and you failed me yesterday!
Big time failed, like put me into the middle of a field failed!
I mean, really?!
You are my go to mapping system, one I thought I could trust.
It's never happened before and it better not happen again because if you become unreliable I'm in trouble.
Rave:
Sun & warmth!!!
The next couple of weeks look amazing and I cannot wait!
I've been pent up in the house for to long and so has the dog for that matter.
Bring on the sunshine :)
Happy Friday & have a good weekend!