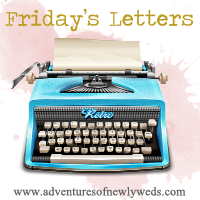 Dear Work Day,
You only get me for a half day today! SUCKA!
_____________
Dear Friday,
Thank you oh so much for getting here quite quickly!
Even with Monday off and a half day today you this week has been quite rough.
_____________

Dear Hubins,
Put the iPad down. lol.
Folks we have someone who is more obsessed with their iPad then I am. lol.
_____________

Dear Gunner,
I love you, but I think you need to man doggy up.
The fact that I had to kill a fly in the bedroom so you wouldn't hide under the bed all night is a little ridiculous.
Even worse, you still continue to hide under the bed two nights after I killed the fly.
_____________

Dear Nails,
Be prepared to be worked this afternoon by Junie.
You are in miserable shape and it's going to take some work to get you back to your awesomeness.
Now I just need to figure out what I want to do with you!
Options, options, options...which one do you guys like?
_____________
Dear Foster of the People Concert,
You are the second concert of the week and you are outside.
You have to fill the shoes of Edward Sharpe, but the fact that you are outdoors already makes you a little bit better.
Thank you for starting off my weekend right :)
_____________

Dear Donuts,
Happy National Donut Day!
I believe it's only right to eat one of you today.
_____________
Dear Hubins,
I've had a great week with you!
Not that we don't normally have good weeks, but this week has seemed especially pleasant.
Why?
Not completely sure, but parts of it have to do with having Monday off together, air humping guy at the concert, and late night pillow talk lol.

Happy Friday!