I am so happy that it's finally Friday!
This week has seemed absolutely insane, but I suppose this weekend isn't really going to slow us down at all. Kev and I will be all over Ohio, for birthdays and Father's Day!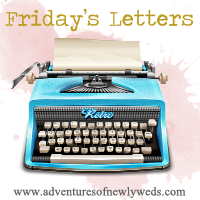 Dear House Projects,
Why is that I get the motivation to do any of you when I really don't have the money to spend?
Well despite the money factor I am working on a To-Do list to kick your ass from here to kingdom come when said money is ready to be spent on you!
Dear Kev,
I loved having a late night with you catching up on tv shows.
Pillow talk is always fun :)
Dear Ann-Elyse (aka Lynn's psychic friend),
We are going to need to have another talk.
You freaked me out a little bit after what you said and just left!
Ya can't just leave a girl hanging like that?!

Dear Ohio,
Be ready for Kev and I to walk (aka drive) all over you.
We aren't doing it to be rude, we just have a lot going on.
Also, if you could keep the weather nice that'd be fanstatic!

Dear Blog Friends,
You.are.awesome!!!!
Thank you so much for all your support!
Dear Bestest,
I have had so much fun with you this summer already.
I am looking forward to all of the activities we have planned like sand volleyball, puppy park dates, shopping trips
(we gotta watch out for Target though!)
, and watching trashy, girly reality TV shows while the boys are out being active.
Happy Friday & have a great weekend!