Good morning lovies!
Every time I hear or say the words "tids & bits" I think of The Other Sister.
Don't you love that movie?
So, off to life's small things :)
1) Feeding the birds.
I'm not a huge fan of birds, but during the spring, summer, and fall I feed them.
Why? I enjoy watching them I suppose and they are nice to listen to when have the windows open or we are on the back porch.
Can I tell you that every time I fill that up I get a little nervous that this Red-Winged Black Bird that hangs out close by is going to attack me. They are mean and I'm pretty sure it's nest is in a near by tree.
Thanks to said feeder we got a sweet picture for my Photo-a-day challenge and it just so happens to be said black bird!
2) Cuddling up with this guy.
Gunner seems to think he is a much smaller dog than what he is because he just lays on top of you. Really he'll lay wherever he wants, but I love that he's a cuddle bug!
3) Watching the storm.
On Monday we got to watch an awesome storm roll in and let loose at our friend Kyle's house.
Watching storms is one of my favorite things to do.
It's pretty and humbling.
4) New Cheesy Potato Recipes!
Last night we made dinner with Jason and Danielle and when asking what we should have Danielle suggested these. Oh my I thought I'd died and went to potato heaven. They were delicious and I already know that I'll be making them many times.
My favorite part? They are made on the grill, and they have bacon and cheese. Enough said right?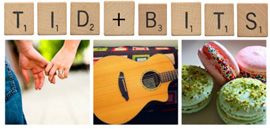 Happy Thursday!