I've been crabby this week. It's hormones plain and simple. Despite the crabbiness I've been thinking a lot about the small things. The small things that make moments perfect.

Maybe it's because of the good weather, but it's something and I like it.
I'm officially obsessed with the
Voluspa Candles at Anthropologie
!
The scents are clean, crisp, and some of them even have a hint of that manly cologne/musk smell. Mmmmmmm!
Check them out. I don't think you'll be disappointed.
---------------


We get to watch Nanner (aka Hannah) for a few days while Danielle and Jason are soaking up the sun in Florida...bitches lol.
Gunner loves having Hannah come stay for a few days and I can't say that I mind seeing that sweet little face running around either :)
---------------

Like I said yesterday, mamas got a new iPad.
I have been playing around on it for the last few days, but I know there is so much you can do and utilize on an iPad.
I do not have any iPhone and my iPod is a nano so I have a lot to learn about an Apple product.
I can't wait to dive a bit deeper.
Any tips, tricks, or app suggestions are welcome!
---------------


Kev and I went over to a friends house last night for our first summer fish fry!
Nick caught all the perch himself :)
Definitely started the summer frying sessions off on the right foot!
---------------

What have you been up to this week lovies?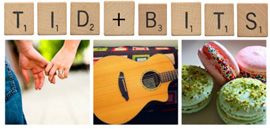 Happy Thursday!