Hello and good morning!
I'm so glad it's time for the weekend.
Aren't you?
Linking up with Ashley for some Friday letters!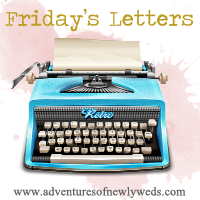 Dear Hubs,
Thank you for getting me Mumford & Sons tickets.
They were amazing :)
Thank you for being an awesome cook!
And thanks for being great :)
Dear Blogger Friends,
You guys are really awesome.
Thanks for sticking with me.
Dear someecard,
You are SO hilarious!
Keep up the good work!

Dear weekend,
You are looking promising.
Should be a nice mix of socializing and relaxation.
Dear fog,
I remember when you use to mean two hour delays!
I wish that still happened =/
Dear Gunner,
OMG you are just so stinkin' cute.
I love ya!
Happy Friday!