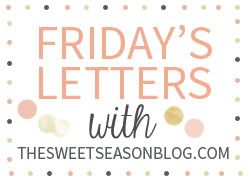 I have linked up for Friday letters in a little while and I think it's about time to rejoin the fun!

Dear Friday!
I am thankful that you are finally here!
I have a girls night planned with the BFF and we are ready to par-tay
...aka watch a movie and fall asleep by like 10.

Dear Hubs,
We have had such a good week together!
Maybe it's because you spend two days last weekend just talking hunting and are still basking in all your new hunting goodies glory...
or maybe it's just one of those weeks we clicked!
Either way, I love ya!
Kev with
Todd
&
Justin
from
Bowhunt or Die!

Dear Gunner,
I love the fact that you are a big cuddle mutt.
You might actually be thinking your a lap dog but either way you are a snuggle whore and I love it!
and now I am pretty sure you won't snuggle with me for a couple days because you hate me right now...
This is Gunny Bunny :)

Dear new mothers & mamas-to-be,
I am so happy for all of you and your families but man-oh-man do you have me feelin' the feva!
Poor Kev is sweating from all the baby heat I am radiating at him lately and it's mostly because of you and all your cuteness.

Dear Nighthawk,
First, I am so lucky to have you as a best friend.
I'm blessed to have someone like you in my life to share life's ups and downs.
Second, you have taken on your job like a g.d. boss.
Putting in all those late, crazy hours will pay off!
Third, GIRLS NIGHT TONIGHT!!
Get the wine chilled and the movie ready to roll :)

Dear Readers,
I truly appreciate your reading and supporting this hobby I have and love.
It does mean a lot to me and I hope I can keep you all entertained!
I don't want to lose you so make sure to follow me on Bloglovin.
Have a great weekend!
Happy Friday!