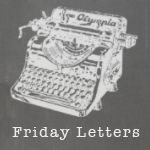 I haven't done Friday Letter's in awhile!
There is, of course, much to be thankful for, and even some things to gripe about this week.
Dear Moochie & Co.,
Thanks for having John Lafree come in and do live caricatures.
Gunner didn't hold still one little bit, but we left with this amazing pictures...
...we also left with a new toy and 3 bully sticks.
P.S - Dog owners!!
Check out John's website:
HERE
.
You can send your animals picture in for for a full body sketch if you are interested!
P.P.S. - my wallet does not share my feelings of love Moochie, sorry.

Dear Cough,
I hate you.
Go away.
Dear CB2,
First, thanks for existing
Second, Thank you so much for having some cute, hanging vases, that are cheap, but don't look it!
Those poor air plants I have sitting on the table will be so happy to have a home :)

Dear Hubs,
Thanks for being patient with me this week as I've been sick and grumpy!
And for getting me all the meds a girl could ever need :)
You're the best.
Dear Pinterest,
Thanks for the wonderful Monterey Chicken recipe :)
It's delish!
Dear weekend,
You are looking quite fun!
I'm hoping you can also give me some rest so I can get past this nasty cold.
Happy Friday & have a good weekend!