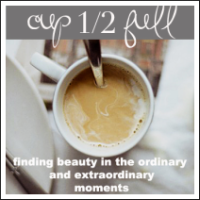 On a Monday it's sometimes hard to remember the good things.
It's such a Debbie downer day of the week.
It seems that this week has been worse with all the strange weather this winter. I'm not complaining about it not being cold but I am not sure how much more of this up & down business I can take.
I was excited when I stumbled across this link up to help us remember all that is good in life...even on a Monday :)
Yet another weekend came & went to quickly. This weekend was spent with family & friends. Really, it couldn't have been much better.
One of my favorites moments of this weekend though was Sunday morning. Normally it's Kevin that gets this kind of attention but this Sunday I got to be the lucky one.
The lucky one that got to cuddle up with this guy!







It's really become the little things that make me the happiest. This was definitely one of the better Sunday mornings I've had in the last few weeks!

Happy Monday!