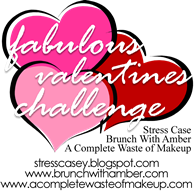 I'm doubling up the link-ups today with the Holiday Challenge & How Pinteresting!
Today's Topic: Love Myself(favorite feature, best quality, best personality trait anything)
I've been blessed with being a confident person. Yes, there are things about myself that I do not like but for the most part I'm happy with how I look and who I am! I think that alone is a feat. I don't know many people that can say that. Although, I think a lot of people don't realize their insecurities and would say they are confident and happy with themselves, when really they do things to indicate otherwise. I digress.
My
favorite features
for myself are my eyes, my smile, my hair, & butt!
My eyes, because I like the color of them. They are brown, but a light-yellowish brown. I feel like it's a brown color you don't see to often :)

I might have a gummy smile but I like it! Plus it was my senior superlative a million years ago, can't let that title down! lol.

My hair. It does absolutely nothing, but it's healthy.

Since I don't really have a large chest, my "assest" is definitely my butt!
I think this is a good picture to show off the first 3

!

I'm getting this shirt. As a member of the itty bitty titty committee and marrying an ass man I think it's appropriate :D
My
favorite personality traits
are my loyalty, I'm opinionated, and my self-respect.
I'm a loyal person. We all know this at this point. I'll do just about anything for the people I love and you better not mess with them...or else!

My opinions are just those, opinions. I'm never trying to offend anyone but I will voice my opinion when necessary...or even when it's not necessary :)

This is something that I've learned not everyone seems to have. Maybe when it comes to some things but important things, not so much. I refuse to let anyone, and I do mean anyone, walk all over me and disrespect me. I'm worthy of more than that, so please treat me that way! I'll stand up for myself and heck I'll even stand up for my friends that I know are better than the treatment they are getting. You have to respect yourself first!

Psh. You do not want to hear the ones I keep to myself.

What are your favorite things about you? Link up & share!