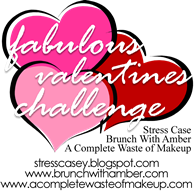 Today's Topic: Love My Outfit - Valentine's Day Outfits

Also, linking up for Oh, How Pinteresting! Don't you love when you can double up!

I'm not really sure what Kevin and I are doing for Valentine's Day this year. Even for something like Valentine's Day I like to keep it semi casual. We do usually go to a nice restaurant so I dress up a little more than normal. As mentioned in the first post I like to keep things casual when Kev and I have the night to ourselves. It's nice to just sit and do nothing together! For the post though and for fun I'll post two types of outfits: casual and fancy!
I love this outfit! I've been really into dressing up the leggings lately. I don't think I've ever worn them as much I have this year. New obession...probably.
Simple, cute, and well put together. I like it!
I love the lace on the this dress. It dresses it up, yet the dress it self looks like it'd be pretty comfortable!
I am in LOVE with this dress! I've always wanted a little red dress. Oh, don't worry I already have my little black one. Priorities.
Which outfit are you going to wear this vday? Link up & share!